Wow! It's been four days since the marathon. I've had a lot of time to mull it over and try to put it into words. I'm not so sure how I'll do, but here goes. First of all I want to thank everyone for the encouraging words and support. I know some of you have been waiting for this report. I'd like to say that I put together the ultimate essay on the epic battle of mankind against the forces of nature. Isn't that what every race is? Instead you just get me yakking on about my best marathon, ever.
On Saturday afternoon we drove the course with a fellow CA Cruiser Kitty and her husband. Kitty was there to run the half marathon. She used to live in the area and her sister still lives in Snohomish. Driving the course was a real eye opener. The course is not advertised as "flat and fast" and I didn't expect that it was. I'd read the reviews of the 2005 course on marathon.com and talked to Jeff about the course. The 2006 course was flatter and deemed to be twice as easy as the 2005 course on the website. Even with all that, knowing that there will be hills and expecting hills is not the same as actually seeing the hills. It was good to see the course but I walked away from the experience thinking "so much for the sub 4:00". The first 5 miles of the course were uphill. I thought of the last longish run I'd done over in Chino Hills with the 4 mile uphill at the start and how agonizing the last 8 miles of that run had been. What had I gotten myself into?
I got a decent night's sleep that night thanks in part to having gotten up at 4:00 a.m. that morning to catch the flight to Seattle. I awoke and felt immediately uneasy. I was just flat out scared about how the day was going to go. We drove over to the start by 6:00, the temperature was 64°F. The sky was only mostly sunny with only scattered clouds. At first there was almostno onee there. Kitty and Leroy showed up and we chatted and I sort of forgot about my fears. Runners were showing up so we decided to go walk a little and I we ran into
Rob
. He wasn't really hard to spot. There weren't that many people in the park and he had mentioned that he would be hanging out with the
Marathon Maniacs
. It was cool to meet him. I guess I freaked him out a little when I told him about driving the course the day before. We parted ways so I could hit the portapot on last time before the race.
I could hear the announcer calling the runners to the starting line but it seemed like a lot of people either didn't hear him or weren't payingattentionn. I made it out of the john just in time to run to the street and realize I was on the wrong side of the start line when the race took off. I quickly ran around the gate and got on with the race. This was not the best way to get started but, I was off. About a quarter of a mile into the race Rob caught me, wished me well and took off. He had gotten a late start, along with a lot of other people.
I had found a pace chart on the marathon website that used varied paces accounting for the hills. There was nearly a 2 minute difference in pace between the biggest uphill, at 9:59 and the steepest decline at 7:38. My goal was sub 4:00 (I think I've mentioned this) so to be optimistic I had used the 3:50 pace chart. I printed it out, protected it with packing tape and carried it in my fuel belt. I checked it at every mile to assess my progress. The pace chart suggested 9 to 10 minute miles for the first 5 uphill. I ran most of mile 2 with one of Rob's Maniac friends, Lisa. She was shooting for 3:45 to 4:00. At the 2 mile mark she took off. I decided to maintain the suggested pace. I hit the 5 mile mark in 45:00, a little ahead of the projected 46:52. I definitely wouldn't say I went out too fast on this one!
At this point we had a nice downhill section. It was here that I finally came to my senses and realized that most of the uphills were followed pretty much by equal downhills. I guess this seems elementary but all I was focused on during the drive was the uphills. At mile 8 I turned a corner and there was my wife. That was a nice surprise. I pulled over for a quick kiss and then on my way again. After the nice 4 mile downhill, I was at 1:16:53, ahead of the scheduled 1:19:38.
At mile 11 I started feeling a hot spot behind my right big toe, the beginnings of a blister. This was mostly annoying since I hadn't had a single blister this whole training cycle. I realized I had used Body Glide on my thighs but had neglected my feet. Too late now to do anything about it.
About this same time I caught up with
Sam Thompson
. Rob had told me about him before the race. He is running 50 marathons in 50 states in 50 days to raise awareness and funds for Katrina victims. Go check out his website, he even has a
blog
. Apparently he had this idea before
Dean Karnazes
. Sam was running along side
Tony Phillippi
, one of the Marathon Maniac founders.
I hit mile 13 in 1:52:16, nearly 4 minutes ahead of schedule. After the race I had talked to a few people by phone about the race and had mistakenly reported a negative split. I was looking at my 13th split, which was actually mile 14 since I had missed a mile somewhere along the line. I feel bad that I overstated my performance. My official 13.1 mile split was 1:53:41. I still wasn't convinced at this point that I would meet my goal. Between mile 13 and 14 my wife appeared on the sidelines again with camera in hand. Another quick kiss and off I went. At mile 13 I started my second gel. I had used my first at mile 7 and 10, a half pack of PowerGel Chocolate at a time. I had also been grabbing a cup of water at every water stop. I took a couple of short steps, pinched the cup, and sipped the water without missing a beat. I was pretty proud of this. I used to walk water stations.
From mile 14 to 20 I kept leap frogging Sam and Tony and about a half dozen other runners. I was going slower on the uphills and taking advantage of the downs just like the pace chart prescribed. At mile 18, there was my wife again. Yes, one more kiss and go. She yells to me that I'm going to go sub 4:00. I yelled back not to get so confident yet, I still hadn't gotten to the "WALL" yet. I was at 2:35:53 compared to 2:39:58. I still had a 4 minute cushion for a 3:50 finish. I got a little excited but made myself forget it, at least for a couple of miles.
The Seattle Seahawks Blue Thunder Drumline were at mile 20. I wish they could have followed me to the finish. Mile 20, I was at 2:54:45. With only 6.2 miles to go I figured worse case scenario 10 minute miles and I would still break the 4:00 barrier. Mile 20 is also where the half marathon course joined back up with the marathon course. Mile 7 of the half, mile 20 of the full. The half runners were already finished, so we were sharing the course with the half marathon walkers. This was a very bizarre experience. The marathon runners were very spread out by now, so I just weaved my way through walkers. It made me feel like I was going slower than I really was.
There was no way to deny that I was slowing down. By mile 22 my cushion had dwindled to about 2 minutes. Mile 24 I was at 3:30:18, just 6 second ahead of schedule for the 3:50 finish. Around here were passed a little breakfast joint called Chace's Pancake Corral. It smelled so good. My wife and I returned there Monday and Tuesday for breakfast. Mile 25 to the finish are a gentle uphill. I kept plodding along.
Around the 26 mile mark, I recognized Rob up ahead of me. I was very surprised to see him there. My goal became to catch up to him. I called out his name a couple of times. I caught him right at the finish line. I put my hand on his shoulder just as he crossed the line. He finished 1 second ahead of me. This was a very cool way to finish the race, along side a runner I admired through his blog and met in person just over 4 hours earlier.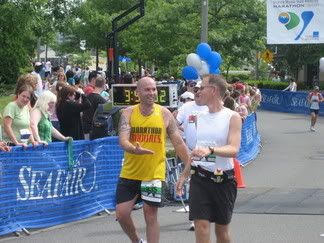 My wife took this shot just after the finish. I think it says a lot about the kind of guy Rob is. I've got to hand it to a guy with a wife, 4 kids and pursuing his masters degree who still finds time to put in crazy miles every week and races a lot. After we chilled at the finish area for awhile Rob joined my wife and I for lunch at a TexMex place and chatted some more. Then it was off to pick up the kids and Lisa and I went off to explore the Pacific Northwest.
The temperature at the end of the race was in the mid 70's under still mostly sunny clear blue skies. The latest update the marathon has my finish time at 3:52:10 (chip time). The splits are 1:53:41 and 1:58:49. Only a 5 minute slow down on the second half, cool! Now it shows Rob as #104 and me as 105. I'm not sure how these things change since Monday but that's the latest. There were only 550 marathonfinisherss, not including the half and the relay. I'm really surprised and thrilled with my finish in the top 20% overall and 13/58 in my age group. With such a small field, we got so spread out, and it's easy to convince yourself that there'sno onee behind you. The other thing I'm really proud of is that I ran this whole marathon. Now I can say I've RUN my first marathon. All the others have been done with the run/walk method. I have nothing against that method, it worked for me, but it's a big confidence boost to know that I can run this thing.
I've been trying to figure out what I did differently this time around to get me to this point. Somehow on the hilliest course I've ever run, I set a big PR. My best marathon up till now was 4:06:49. I surpassed that my nearly 15 minutes. My three marathons last year were no where close to besting that time. Here's what I think I did right:
1. My last marathon was 7 months ago.
2. I took 3 weeks off completely in January 2006.
3. I added speedwork and competed in the 5K series.
4. I increased my week day miles to include 8 milers midweek.
5. I did 3-20+ milers, 1-18 miler and 2-16 milers during this training cycle.
6. April and May were my 2 highest volume months ever.
7. I took full advantage of a two week taper.
Thanks to all who commented, supported and cheered me along the way. Now its Six Down and off to St. George, UT in October. Let me think about my goal for that one, it's downhill you know. ;-)